Key Milestones
It began at the parish level with the dedication and commitment of priests, women religious, teachers, parishioners, and volunteers all working to establish local parish schools that formed the fabric of their neighborhoods.
1890's
St. Peter School opens on Bowdoin Street in Dorchester with 286 children, staffed by Sisters of Charity of Halifax.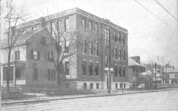 1900's
Sacred Heart School opens in Brockton, staffed by the Sisters of the Assumption of the Blessed Virgin. In its infancy, it primarily served as a school for French-Canadian Catholics, but over time the school population grew more diverse.
In Dorchester, St. Ann School opens at the corner of Ashmont & Neponset Avenue, staffed by the Sisters of Saint Joseph. The three-story brick building consists of 12 classrooms, an office, with a parish hall and social center in basement.
1910's
St. Margaret School opens on Columbia Road in Dorchester with 34 boys and 38 girls.
95 children enroll in 1st and 2nd grades for the opening St. Gregory Grammar School on Dorchester Avenue in Dorchester, taught by two Sisters of Notre Dame.
1920's
St. Gregory High School opens. St. Mark School opens on Centre Avenue, Dorchester with 92 students in first grade, taught by the Sisters of Notre Dame de Namur. So many students are enrolled in St. Margaret School that an additional building is added on Mayhew Street to accommodate the lower grades. St. William School opens on Savin Hill Avenue, Dorchester at the site of former Tuttle House, a summer hotel for those visiting Savin Hill Beach. The red brick, 12 classroom school opened with 69 boys and 77 girls in first and second grades, taught by the Sisters of Saint Joseph.
1930's
St. Angela School opens in Mattapan for first grade only with a grade added each year as the first class advanced. The school was staffed by the Sisters of Saint Joseph.
1940's
St. Casimir School in Brockton opens as a kindergarten in the parish hall. Twenty children enrolled in the first year and a new grade was added each year as they progressed. In Dorchester, St. Kevin School opens on Columbia Road with 32 boys and 37 girls taught by Sisters of Charity of Halifax from the Saint Margaret Convent, Dorchester.
1950's
St. Edward School opens on North Main Street in Brockton with grades 1 and 2, staffed by the Sisters of Charity of Nazareth. In Dorchester, boys and girls are put in the same classes for the first time at St. Mark School, while a significant addition is made to the school, including eight new classrooms.
1960's
A new wing with six additional classrooms is added to St. Edward School. Also in Brockton, St. Colman of Cloyne School opens with 16 classrooms, a library, and gymnasium-auditorium but unfortunately, the school closed after only six years.
1990's
St. Kevin Parish merged with Saint Paul Parish to form Holy Family Parish. St. Kevin School retained its name under the new Holy Family Parish.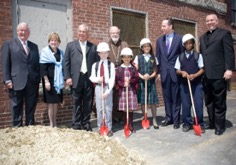 2000's
Cardinal Sean O'Malley invites Jack Connors, educators and business leaders to help further Catholic education in the Archdiocese of Boston. The 2010 Initiative for Catholic Education paves the way for new models of governance, regional planning and strengthening academics and teacher support, including new models for urban elementary schools. The Campaign for Catholic Schools (CCS) is established as a change-agent to help raise funds for urban Catholic education reform.
In 2007, the Sacred Heart, St. Casimir, and St. Edward schools in Brockton merge to form Trinity Catholic Academy, a multi-campus, regional school with fully renovated buildings, a governance board of trustees, improved academic and teacher support initiatives.
In 2008, Saint John Paul II Catholic Academy (SJPIICA) opens in Dorchester. Formed from the merger of St. Gregory, St. Kevin, St. Ann, St. Williams, St. Mark's, St. Angela, St. Peter parish elementary schools, SJPIICA is the largest Catholic elementary pre-K to grade 8 in New England.
In 2009, with the assistance of the Campaign for Catholic Schools, South Boston Catholic Academy opens as a regional pre-K to grade 6 school, formed from the merger of Gate of Heaven Parish School and St. Brigid Parish School.
2010's
CCS completes the renovation of SJPIICA Lower Mills Campus.
Lawrence Catholic Academy and Quincy Catholic Academy, are formed as regional Catholic schools, with new boards of trustees, leadership and faculty from the merger of local parish elementary schools.
CCS launches the Fund for the Future, to raise $25M for school sustainability, academic and teacher/principal support. In 2018, CCS becomes a legal and canonical co-sponsor of Trinity Catholic Academy and Saint John Paul II Catholic Academy, further ensuring the long-term success and sustainability of these academies.
2020's
Through the strength of our CCS co-sponsorship, investments in technology, collaborative leadership, and dedication to our students and their families enable our academies to achieve a 97% average daily attendance rate during the COVID-19 pandemic while continuing to attend to the needs of underserved communities like Dorchester and Brockton.